Water Damage and Mold Removal in Midland
If you need mold removal or flood cleanup in Midland or the surrounding area, don't stress. Just call 911 Restoration of Tri-Cities. Our water damage restoration technicians are highly trained and IICRC certified to provide comprehensive flood cleanup. They handle everything it takes to make your home or business brand new again. Water removal, sanitization, structural drying, roof repair, mold inspection, mold remediation… you name it. 911 Restoration is the only call you'll ever have to make.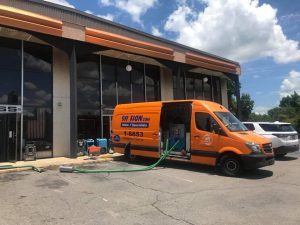 Surprised by an out-of-nowhere pipe burst or house flooding? Our water damage restoration crew will be there in 45 minutes or less. No more waiting and worrying as water seeps into your floorboards and soaks into the foundation of your property. You know exactly when help will arrive. And we provide emergency water damage restoration every hour of the day or night, every single day of the year. Our flood cleanup crew takes great care to limit your costs by providing fast, strategic service to minimize damage. They even pack out and store your at-risk belongings so you don't lose any additional items in your flooded basement.
At 911 Restoration, we believe in the Fresh Start philosophy. This means our team sees every challenge as an opportunity to rebuild better than before. We know how much time and money has gone into making your house a home or turning your business into a place of inspiration. Our goal is to provide more than water clean up service. We want to fully restore your property so it's stronger, cleaner, and more beautiful than ever before.
Don't let a pipe burst or storm damage be the end of your property. Call 911 Restoration of Tri-Cities and look forward to a Fresh Start.
Residential and Commercial Water Extraction Company
No local property is safe from the storms and frozen pipe bursts brought on by the Midland climate. We prepare our water damage restoration technicians to service homes and businesses alike.
No matter where you are or what type of property you own, you can turn to us for quality flood cleanup and mold removal. Our commercial and residential services include:
Water extraction using wet vacs

Sewage backup cleanup

Sanitization

Structural drying and dehumidifying

Boarding up

Storm repair

Roof repair

Leak detection

Packing out and storing

Property repairs

Mold inspection

Mold decontamination

And much more
We also work hard to ease the financial worry that comes along with pipe bursts and other water disasters. You can count on us for reasonable prices, swift service, and insurance assistance. 911 Restoration of Tri-Cities works with all providers, and we offer a free insurance consultation. Even if you know your policy covers water damage restoration, you may not know how your provider defines such a service. They may cover water extraction, but what about drywall replacement? Mold inspection? Mold removal?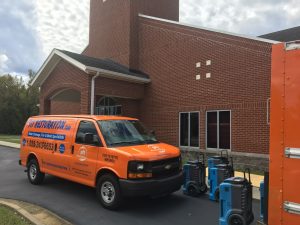 If you don't know, we'll figure it out. A flood cleanup staff member explains your policy in clear terms. Then, they help with inventory and loss itemization, file your claim for you, and bill your provider directly.
Our specialists get you back on your feet quicker than you thought possible… and with minimal stress. Count on 911 Restoration for true peace of mind and the best water damage restoration service in Midland.
Black Mold Removal in Midland and Neighboring Communities
Whether you've been through a pipe burst or flooded basement, we complete every flood cleanup service with a mold inspection.
A mold inspection is an essential part of the water damage inspection. We don't want to leave you with mold any more than we want to leave you with roof damage. A fungal infestation eats away at the materials that make up your property. More importantly, mold can cause health issues for anyone occupying the space.
Black mold is especially concerning. This type of fungus typically has a black-green color and slimy texture, but it may vary in appearance. Always get a mold inspection rather than self-diagnosing an infestation. 
Black mold is toxigenic and requires immediate mold remediation. If a toxigenic mold colony is left to thrive without mold decontamination, it fills the air you breathe with dangerous mycotoxins. The long-term results include allergies, asthma, headaches, and even heart problems.
Our mold remediation experts are sensitive to the high stakes of a black mold infestation. They use the safest methods for mold removal and conduct structural dehumidifying to prevent repeat growth. Don't be tempted to try mold remediation yourself. Home remedies are rarely effective. Plus, do-it-yourself techniques put you in direct contact with a dangerous fungus you should be avoiding.
play it safe. Call 911 Restoration of Tri-Cities for lasting mold remediation by trained professionals.
Servicing the cities of Alger, Au Gres, Auburn, Bay City, Bentley, Essexville, Freeland, Gladwin, Hemlock, Kawkawlin, Linwood, Midland, Munger, Omer, Pinconning, Reese, Rhodes, Saginaw, Saint Charles, Standish, Sterling, Turner, Twining, and surrounding areas.