Mold Removal
Get a Fresh Start if you discover mold in your home or business by contacting 911 Restoration of Tri-Cities today. Our mold removal techs are IICRC certified to handle residential and commercial mold remediation in Tri-Cities. You can reach us 24/7/365. Crews can reach your property within 45 minutes of an emergency call to:
Perform a Free Visual Mold Inspection for Property Owners Only
Determine the Underlying Causes of Your Mold Outbreak
Isolate All Areas Infested with Mold
Begin Prompt Mold Cleanup and Odor Removal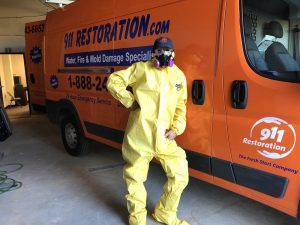 Tri-Cities mold decontamination techs are trained to safely remove all types of mold. You can even count on us to deal with toxic molds, including black mold. Mold cleanup crews can come prepared with personal protective gear so they can remove this mold safely.
No mold remediation job is too big or too small for us in Saginaw, Bay City, Midland, and surrounding areas. Techs are ready to offer you same-day services, so you don't have to allow mold to continue to spread throughout your home or business. You can begin renovating your property in under an hour when you reach out to us. Call us at (989) 248-7593 and learn how we can help.
Let us begin focusing on your unique needs right now with a mold inspection in Tri-Cities. Crews can design a plan for mold remediation that can return your property to better-than-new condition. Get back your peace of mind and a Fresh Start by contacting us as soon as you spot evidence of mold growth in your home or business.
Do You Need Professional Mold Remediation in Tri-Cities?
Some property owners in Saginaw consider handling mold remediation on their own. While this option may appeal, it can also allow some spots of mold to go unnoticed in your property. Licensed, bonded, and insured mold removal crews can take steps to:
Find Mold, No Matter Where It Hides in Your Property
Eradicate All Traces of Your Mold Infestation
Remove Mold Spores Using Air Filters
Stop Mold from Spreading to New Areas of Your Home or Business
Repair the Underlying Causes of a Mold Outbreak
Handling the causes of a mold outbreak is especially important. Mold can return and begin to grow in your property once more if the root cause of the infestation is not addressed. Fortunately, 911 Restoration of Tri-Cities is a full-service property repair company.
Call us at (989) 248-7593 and please allow us to offer you a free visual inspection.
You can rely on us to take care of water damage that could lead to a mold outbreak. Techs in Midland are trained to handle flood cleanup, dehumidification, and water damage restoration in Michigan. Crews can work quickly to remove water after a flood, sewage backup, or pipe burst.
Professional mold decontamination techs in Tri-Cities can also ensure all signs of your mold infestation are eradicated after they finish their work. They can complete a final mold inspection to ensure your property is back in perfect condition, so you can get back your peace of mind. Call us now to start mold cleanup in Saginaw, Bay City, Midland, and surrounding areas.
How Can Techs Handle Black Mold in Tri-Cities?
All forms of mold can damage your home or business in Bay City. However, some forms of mold are more dangerous than others. Toxic molds – including black mold – can negatively impact your health, leading to respiratory ailments and other health hazards.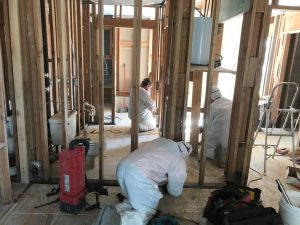 Mold removal experts in Tri-Cities can get rid of black mold for you. Note that this type of mold should not be handled without protective gear. Exposure to black mold spores can be dangerous. That's why mold cleanup crews:
Wear Protective Gear When Cleaning Your Home or Business
Isolate Areas with Black Mold Using Plastic Sheeting
Set Up Air Filters to Get Rid of Black Mold Spores
Use Specialized Cleaners to Clean Areas Exposed to Mold
Carefully Dispose of Infested Items If They Cannot be Cleaned
You can begin mold decontamination in Tri-Cities quickly if you suspect you are dealing with a black mold outbreak. Begin the process with a mold inspection. Starting mold remediation in Saginaw right away can:
Stop Black Mold from Spreading
Limit the Total Damage Caused by Black Mold
Reduce the Costs for Mold Cleanup
Keep Mold Remediation Times Short
Additionally, beginning mold cleanup quickly in Tri-Cities can increase the chances that your property owner's insurance will cover mold removal. Waiting to start mold decontamination in Bay City can allow insurance agents to deny your claims, so contact the professionals at 911 Restoration of Tri-Cities today. Let us handle commercial and residential mold outbreaks so you can move forward with peace of mind. Call us at (989) 248-7593 and see how we can help you.
Serving the communities of Alger, Bay City, Freeland, Kawkawlin, Midland, Saginaw and surrounding area.
911 Restoration of Tri-Cities is located at 3364 S Reese Rd Frankenmuth, MI 48734, so give us a call 24 hours a day at (989) 248-7593.