Water Damage and Mold Removal in Alger
Life is good in Alger… until a storm or freezing temperatures hit and you're dealing with a flooded basement, pipe burst, or sewage backup. Suddenly, the home or business you've worked so hard to protect is at risk of costly, long-term damage.
Not to worry. No matter when, where, or how water disaster strikes, 911 Restoration of Tri-Cities is here for you. We provide emergency water damage restoration in Alger and the surrounding area. Our flood cleanup technicians appreciate the urgency of your situation. Whether you have a midnight sewage backup or a pipe burst on a holiday, you can still reach us. A water damage restoration crew will be there in 45 minutes or less, guaranteed.
If you're looking for a water extraction company, you have a few options in the Alger area. But no one else offers the same comprehensive service we provide. Our water damage restoration workers have worked tirelessly to become experts in every aspect of property renovation. Beyond water clean up service, they provide property repair, mold inspection, and mold decontamination.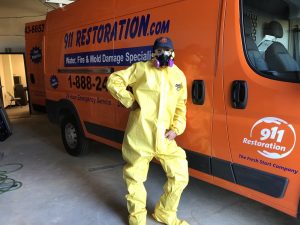 They also guide and counsel you through flood cleanup and restoration. A house flooding feels like a huge problem to overcome, and your mind is probably reeling with questions. Your dedicated cleanup crew takes the time to listen to your concerns and offer practical solutions. They even handle the complicated insurance process for you. Take advantage of our free insurance consultation to find out which water damage restoration services are covered by your policy. Then, take it easy as a staff member helps with loss itemization and files a claim for you.There's no way to sugar coat it. Water damage can feel like a waking nightmare. But at 911 Restoration, we turn your disaster into a                                                                                                                                        Fresh Start for you and your property. Give us a call, and we'll take it from here.

On-Call Flood Cleanup in Alger
When you've had a pipe burst or flooded basement, every second counts. A fast response is the best way to prevent major damages. Fortunately, you can reach 911 Restoration of Tri-Cities 24/7/365. And our guaranteed arrival time of 45 minutes or less means you get through flood repair with minimal damage.
When the water damage restoration crew arrives, they immediately pack out and store at-risk items. They assess your unique situation and devise a plan for efficient flood cleanup. Our technicians come prepared to provide any emergency service. This includes boarding up, roof repair, storm repair, water removal, sewage extraction, and more.
Once the workers have removed the water, they sanitize the area and dry it out using professional fans. The first goal in water damage restoration is to eliminate moisture as quickly as possible. The sooner your property is completely dry, the less likely you are to have damage such as rotting or warping.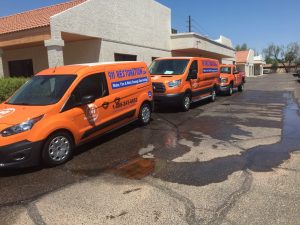 However, things don't always go to plan. You may have discovered your flooded basement or pipe burst a little too late. In such cases, it is possible to incur damage despite the best efforts of the flood cleanup crew. That's why our technicians always complete water damage restoration with a water damage inspection and mold inspection. If they discover any destruction, weakness, or mold development, they repair the problem themselves.
At 911 Restoration, our ultimate goal is to turn your water crisis into an opportunity to rebuild, better than before. For emergency service and a Fresh Start, call 911 Restoration of Tri-Cities now.
Mold Inspection for Commercial and Residential Properties
At 911 Restoration, we provide restoration service for residential and commercial properties alike. That includes our reliable mold inspection and mold remediation.
A fungal infestation can mean big trouble for both homes and businesses. Not only does mold destroy the integrity of your property, it also presents a health risk for those who occupy the space. As a homeowner, you worry about the wellness of yourself, your family, and your pets. As a business owner, you need prompt mold removal for the sake of your employees and clients.
Our mold remediation technicians are sensitive to your unique needs and concerns. Whether you're worried about your family life or your bottom line, you can trust these pros to treat your property as if it were their own.
When it comes to mold removal, safety is a top priority. Our mold remediation experts know how to handle any infestation carefully, without spreading dangerous particles throughout your property. This is especially important in the case of black mold removal. They work hard to make sure the air you breathe remains safe and clean.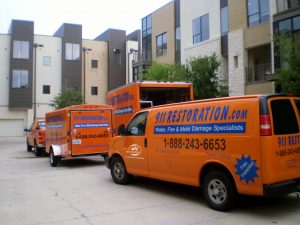 We also understand that you don't want to have to deal with mold remediation again. That's why our mold removal strategy always includes structural dehumidifying. By drying out the structure where mold grew, our mold remediation techs make your home or business an unwelcome space for mold spores.
Worried about the damage your mold infestation has caused? Fungus has a way of making your property look, feel, and smell contaminated. Our workers want to make your property new again, and that includes repairing compromised materials. Whether you're dealing with crumbling drywall or contaminated carpet, the mold remediation crew has you covered.
If you need mold removal in Alger, the solution is easier than you think. Just make one call to 911 Restoration of Tri-Cities.
Servicing the cities of Alger, Au Gres, Auburn, Bay City, Bentley, Essexville, Freeland, Gladwin, Hemlock, Kawkawlin, Linwood, Midland, Munger, Omer, Pinconning, Reese, Rhodes, Saginaw, Saint Charles, Standish, Sterling, Turner, Twining, and surrounding areas.