About Us
Meet the Owners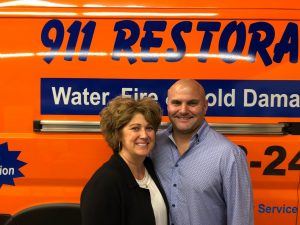 Meet Jeff and Sally, the team behind 911 Restoration of Tri-Cities.
Jeff worked in the auto parts business for six years and in the transmission rebuilding business for 25 years. Sally is a registered nurse who has been serving the local the local community full-time for more than two decades. Combining Jeff's hands-on experience and Sally's knack for compassionate customer care, they now provide comprehensive property restoration in the Tri-Cities area.
The couple's journey to becoming 911 Restoration franchise owners began with their shared experience in real estate. They've been buying and renting properties for quite a while. Along the way, they've learned a lot about what it takes to make a house a home. Jeff's involvement in the real estate industry also gave him an inside look at the restoration business. He quickly discovered two things. First, there is a high demand for restoration services in the Tri-Cities area. Second, too many businesses succeed with shady practices. He and Sally wanted to step in and become a reliable and trustworthy resource for neighbors in crisis. 
This goal led them to 911 Restoration, a nationwide company that emphasizes a high standard of service and genuine customer care. 911 Restoration is built on the belief that you can only provide excellent service when you understand what the customer is up against. This is why our company offers 24/7 availability, 45 minute response times, and free insurance consultations. It's also why customer-focused entrepreneurs like Jeff and Sally easily found a home with 911 Restoration.
Finding a Fresh Start in Every Disaster
911 Restoration is known for our Fresh Start philosophy. This is the belief that every challenge is an opportunity to start again, better than before.
Jeff and Sally have a personal connection to this philosophy. Their experience in the rental business has exposed them to several homes in need of rescue. From fire damage to house flooding to mold, these properties appeared hopeless. But with a little vision and a lot of diligence, Jeff and Sally gave these homes a second life. Now, as the owners of 911 Restoration of Tri-Cities, they offer that same Fresh Start to their neighbors.
This is why 911 Restoration is more than a disaster cleanup company. Every technician on staff is highly trained and IICRC certified to provide comprehensive property restoration. This means replacing, rebuilding, and repairing every structure and service in your home or business. It also means providing a reliable mold inspection and comprehensive mold remediation after a water incident. In the end, Jeff and Sally's team do far more than get rid of your problem. They make your property brand new again, as if it had never been damaged.
To put it another way, they give you a Fresh Start.
Don't Talk About It, Be About It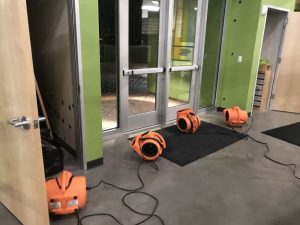 For Jeff and Sally, 911 Restoration of Tri-Cities is more than a business opportunity. It's a chance to give back to the community where they grew up. It's also a chance to set an example for their five kids, demonstrating what hard work and integrity can do.
Jeff's business motto is "Don't talk about it, be about it." He believes in hard work over slick tricks, and he and Sally are both dedicated to building their business with integrity. This commitment aligns seamlessly with 911 Restoration's ethical standards. From coast to coast, our franchise owners champion transparent business practices and clear communication. You can expect the same from the team at 911 Restoration of Tri-Cities.
Beyond their incredibly full professional life, Jeff and Sally love to stay active. They enjoy family activities such as fishing, snowmobiling, skiing, boating… anything that gets them outdoors. Their two black labs also keep their family busy. Jet is nine and Remi is eleven.
Above all, the owners of 911 Restoration of Tri-Cities are committed to helping people in crisis. They know that even small-scale property damage can turn a person's world upside down. They understand the anxiety of not knowing what the next steps are… not knowing what it will cost or if you can recover at all. They get it, and their primary goal is to provide peace of mind for their customers. This means urgent service, regular communication, and true compassion.
Whenever you're in a crisis, Jeff, Sally, and the 911 Restoration team will be there to get you through. They anticipate every need, take on every burden, and lead the way to a Fresh Start.