Commercial Restoration
911 Restoration of Tri-Cities can help if you experienced commercial property damage in Saginaw, Bay City, Midland, and surrounding areas. IICRC certified commercial restoration crews in Tri-Cities can provide you with a Fresh Start. You can contact us 24/7/365 if you need professional help with: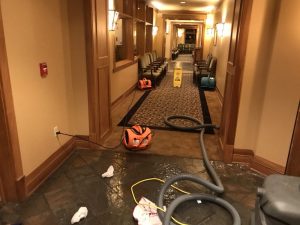 Commercial Water Damage Restoration
Commercial Fire Damage Restoration
Commercial Mold Remediation
Commercial Sewage Cleanup
Commercial restoration techs at 911 Restoration of Tri-Cities have the training to fully renovate and restore your property. We understand what it takes to handle commercial water damage, fire damage, mold growth, and sewage backups.
Techs are armed with cutting-edge property restoration equipment. All crews are licensed, bonded, and insured to bring your property back to better-than-new condition. Techs will also work quickly. They can arrive at your commercial property within 45 minutes of an emergency call to begin the restoration process.
Call us at (989) 248-7593 and please allow us to offer you a free visual inspection.
Getting same-day help with commercial restoration in Saginaw can limit the disruption to your business. Here at 911 Restoration of Tri-Cities, we can even pack out and store your inventory for safe-keeping, reducing your losses.
Let us work to get your business operational again quickly after a flood, pipe burst, fire, or mold outbreak. Crews can work tirelessly to erase all signs that you ever experienced property damage. You can keep your focus on serving your customers while techs handle water damage restoration, fire cleanup, and mold removal. Get back your peace of mind and a fully restored property by contacting us right now.
How Long Will Commercial Water Damage Restoration Take?
The experts at 911 Restoration of Tri-Cities understand that you need commercial restoration completed quickly. Getting help right away can limit the costs of restoration and ensure that you can resume normal operations before taking a big hit to your profits. That's why crews work to fully renovate your property within 1-to-5 days of an emergency call.
You should be aware that commercial water damage restoration can sometimes take a longer period of time. Crews can assess your needs by performing a water damage inspection when they arrive at your property in Saginaw, Bay City, Midland, or surrounding areas.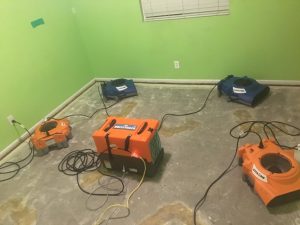 You can get a more exact estimate on the time it will take to complete repairs after your inspection. The exact time for repairs may depend upon:
The Extent of the Damage to Your Property
The Type of Damage You Experienced
The Amount of Time the Damage Went Untreated
Tri-Cities water damage restoration experts can begin working on your needs right away. You can count on us to help you if you are dealing with a:
Sewage Backup in Your Business
Flooding Caused by a Storm
Pipe Burst or a Leaking Pipe
Flooded Storeroom or Basement
Issue Caused by Frozen Pipes in the Winter Months
Let us water damage restoration Michigan. Techs can even check your commercial property for signs of mold growth after a water damage emergency. We're ready to take care of commercial mold decontamination and odor removal to bring your property back to perfect condition.
Call us at (989) 248-7593 and see how we can help you.
Can Techs Handle Commercial Fire Restoration in Tri-Cities?
Commercial properties can be at an increased risk of experiencing fire damage in Saginaw, Bay City, Midland, and surrounding areas. Some businesses – including restaurants – are more likely to experience fire and smoke damage than others.
911 Restoration of Tri-Cities is here to help you with any type of commercial fire damage. Crews have the equipment and resources to:
Take Care of Roof Repairs and Boarding Up After a Fire
Clean Up Fire Damage with Sodablasting
Handle Smoke, Ash, Odor, and Soot Removal
Deal with Water Damage from Fire Hoses and Sprinklers
Focus on Possible Mold Growth
Sprinkler water damage can be particularly concerning to businesses, as the water inside sprinkler systems is often old and tainted. This water can damage your inventory and your property. Fortunately, you can reduce the total damage by beginning water damage restoration and fire cleanup quickly.
You don't have to wait to get professional help on your side when you contact 911 Restoration of Tri-Cities. We're a locally owned and operated company, which allows techs to reach commercial properties in under an hour. All IICRC-certified techs have the training and experience to handle the unique needs of commercial clients who are dealing with fire damage, water damage, a sewage backup, or a mold outbreak in Bay City. Let us work aggressively to get you back in business so you can get a Fresh Start after you experience commercial property damage. Call us at (989) 248-7593 and learn how we can help.
Serving the communities of Alger, Bay City, Freeland, Kawkawlin, Midland, Saginaw and surrounding area.
911 Restoration of Tri-Cities is located at 3364 S Reese Rd Frankenmuth, MI 48734, so give us a call 24 hours a day at (989) 248-7593.