Water Damage and Mold Removal in Bay City
If you need flood cleanup in Bay City, you don't have to settle for a basic water extraction company. 911 Restoration of Tri-Cities provides comprehensive water damage restoration and mold remediation in Bay City and beyond. Our IICRC certified staff boasts expertise in all aspects of property restoration. From sewage removal to roof repair to mold decontamination, they do it all.
At 911 Restoration, you're a neighbor—not just another invoice. We take your pipe burst or flooded basement as seriously as you do. We consider your home or business an essential part of our beautiful community, and we do whatever it takes to make your property new again.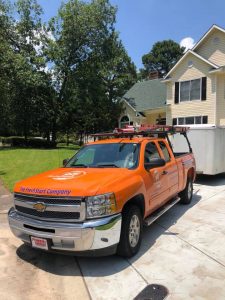 We also make your peace of mind our top priority. This means providing an immediate response in emergency situations such as pipe bursts and house flooding. If you have an urgent need for water damage restoration, just call us and we'll be there in 45 minutes or less. We're here for you 24/7/365.
Our flood cleanup workers understand the stress you're under in the midst of an unexpected nightmare like a flooded basement. They ease your mind with clear communication and transparent business practices. You can rest assured that 911 Restoration is licensed, insured, and bonded. And we make sure you know what kind of expenses to expect before water damage restoration begins.
Wondering if insurance covers water damage restoration? We help you figure that out, too. We work with all providers and sit down with you for a free insurance consultation. We explain which services your provider will pay for, from sewage removal to mold remediation. We even file a claim on your behalf and bill your provider directly.
You're not in this alone. For compassionate, expert water damage restoration, count on 911 Restoration of Tri-Cities.
The Fastest Water Damage Restoration in Bay City
For quality flood cleanup and fast service, call 911 Restoration.
Speed is everything when you've been hit by a pipe burst or any other out-of-nowhere water incident. As long as water remains on your property, you're at increased risk of major damage like rotting drywall or warped floorboards. That's why our water damage restoration technicians respond to every call with urgency. Their prompt attention is key to limiting your damage and minimizing costs.
When they arrive, they check for any belongings that could be damaged during water damage restoration. If any items appear to be at risk, they pack and remove them right away. Then they rush to remove the water. Their emergency services include everything from sewage extraction to boarding up and roof repair.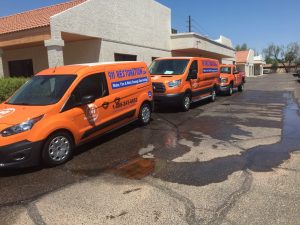 Once water clean up service is complete, the crew dries the entire space using professional fans. Then they conduct a water damage inspection and mold inspection. While our flood cleanup technicians are the fastest in the business, sometimes destruction is unavoidable. Whether it's structural damage or mold contamination, our water damage restoration staff has you covered. They repair and replace any material and handle mold removal personally.
In the end, you're left with a home or business that's stronger and brighter than ever.
Whether it's a pipe burst, storm damage, or any other water crisis, make 911 Restoration of Tri-Cities your first and only call.
Expert Removal for Water Damage Mold 
Your risk of mold contamination after water damage is high, especially in the event of a flooded basement. Mold spores only need 24 hours and access to a damp surface in order to create a new colony. This is why it's so important to get a mold inspection from a certified mold remediation expert after a water incident.
Property owners often try to tackle mold removal themselves. Believe it or not, do-it-yourself methods cost more in the long run. Household cleaners are ineffective when it comes to mold decontamination. Plus, mold remediation is about much more than cleaning a nasty spot. In order to truly get rid of mold, you need a professional to make sure every growth is accounted for. You also need preventative measures to ensure a fungal attack is unlikely to happen again.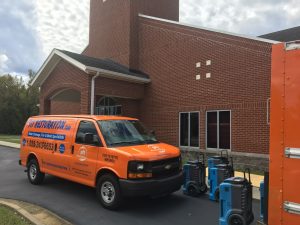 Our mold removal crew conducts a detailed mold inspection of your property. Fungus reproduces through airborne spores. This means it's possible for an infestation in plain sight to spawn a second colony hidden in your walls or crawl space. Without a certified mold inspection, you can't be sure your do-it-yourself mold removal efforts actually eliminate mold from your home or business.
Then, to prevent future growth, the mold remediation technicians at 911 Restoration complete mold removal with structural dehumidifying. During a house flooding or flooded basement, the structure of your property absorbs moisture. Even once the surfaces are dry, water may still be stored deep within the core. Over time, that moisture rises to the top, creating a damp space where mold spores can start a new infestation. Through structural dehumidifying, our mold specialists dry your property down to its core, keeping you and your home or business safe in the long term.
The key to effective mold decontamination is a comprehensive approach. That's what you get with 911 Restoration of Tri-Cities. Call us today.
Servicing the cities of Alger, Au Gres, Auburn, Bay City, Bentley, Essexville, Freeland, Gladwin, Hemlock, Kawkawlin, Linwood, Midland, Munger, Omer, Pinconning, Reese, Rhodes, Saginaw, Saint Charles, Standish, Sterling, Turner, Twining, and surrounding areas.