Water Damage in Tri-Cities
911 Restoration of Tri-Cities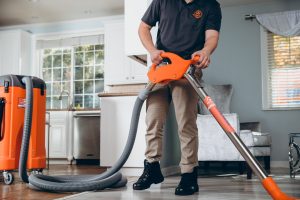 You can get same-day help with property restoration in Saginaw, Bay City, Midland, and surrounding areas. The professionals at 911 Restoration of Tri-Cities are ready to provide you with a Fresh Start today. You can reach our IICRC certified property restoration crews 24/7/365. Techs can reach your property within 45 minutes of an emergency call to handle:
Water Damage Restoration
Mold Removal and Decontamination
Cleanup for Sewage Backups
Fire Cleanup and Smoke Restoration
Disaster Restoration and Repairs
All techs at 911 Restoration of Tri-Cities are licensed, bonded, and insured to handle your unique needs for commercial and residential property damage. We can develop a personalized plan for water damage restoration, fire damage restoration, mold remediation, and more. Contact us now to get started in Saginaw.
Jon Charters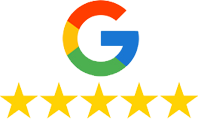 Absolutely the best restoration company in Mid Michigan! I had an emergency job to get done on a house I'm buying and after getting quotes from 2 other companies in the area, I decided on 911. I'm so glad I did! Not only were they the best price, but they did the job in a timely and professional manner! The quality is top notch and shingles matched perfectly! I would definitely recommend 911 Restoration for any job, big or small! Great Company!
Water Damage Restoration
Water damage emergencies can cause a lot of damage to properties in our area. You may need fast help if you are dealing with a flooded basement, frozen pipes, ceiling leaks, or a pipe burst. Tri-Cities water damage restoration crews can spring into action for you right now.
The water damage restoration and flood cleanup professionals at 911 Restoration of Tri-Cities can:
Remove Excess Water from Your Property
Dry and Dehumidify Your Home or Business
Repair Damage Caused by Excess Moisture
Handle Carpet Water Damage
Deal with Crawlspace Cleanup and Basement Flooding
Beginning water damage restoration promptly in Tri-Cities can reduce the total damage to your property. Contact us now to start flood cleanup, water extraction, and property renovation in Bay City.
Service area map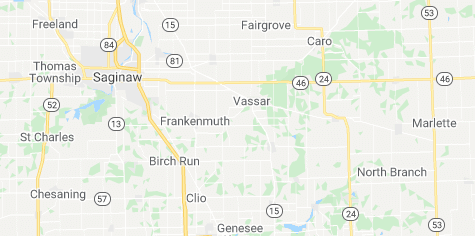 Sanitization Services & Disinfection Solutions
The outbreak of coronavirus has reached a worldwide impact that can no longer be ignored. This pandemic has resulted in every single person and business being affected even if they're not sick. As such, it's critical we all do our part to contain the problem. One thing everyone can do is maintain their personal hygiene.
Property owners have a responsibility to contribute towards the solution by making sure their buildings remain sanitized according to the latest protocols. By doing this, they can make sure everyone who comes and goes remains as protected as possible. That's why 911 Restoration of Tri-Cities is ready and willing to provide sanitization services along with various disinfection solutions for both residential and commercial properties. Each of our technicians is trained to maintain full compliance with all current CDC and EPA protocols in an effort to deliver optimal results with our sanitization services. As part of the Tri-Cities community, you can count on us to do our part in creating peace of mind for our residents.
Mold Removal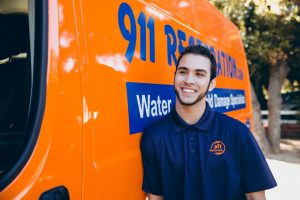 Mold is a fungus that can damage your home or business. This fungus can also threaten your health, making mold removal in Tri-Cities very important. You can count on us to take care of your needs as crews:
Perform a Mold Inspection
Isolate All Areas Exposed to Mold
Set Up Air Filters to Get Rid of Mold Spores
Scrub Down Surfaces Exposed to Mold
Complete Mold Decontamination to Get Rid of Odors
Tri-Cities mold removal crews can work aggressively to erase all signs of a fungal infestation from your property. Techs at 911 Restoration of Tri-Cities even have the equipment to take care of black mold outbreaks.
Crews will work tirelessly to handle mold remediation in your home or business. No job is too big or too small for the mold removal experts at 911 Restoration of Tri-Cities, so contact us now.
Sewage Backup and Cleanup
You count on your sewage system to remove waste products from your home or business. Unfortunately, sometimes sewage systems in Midland back up, spilling raw sewage into your property. When this happens, 911 Restoration of Tri-Cities is standing by to help.
Sewage cleanup crews can reach your property in under an hour. Once they arrive, they can:
Stop Additional Sewage from Entering Your Property
Remove Sewage in Your Home or Business
Thoroughly Disinfect All Areas Exposed to Sewage
Check for Signs of Mold Growth
Repair Water Damage and Remove Odors
We understand that you will likely need water damage restoration services after a sewage backup in Saginaw, Bay City, Midland, and surrounding areas. Crews have the training to dispose of sewage, repair property damage, and return your property to better-than-new condition right now.
Fire and Smoke Damage Restoration
Do you need help recovering from a fire in Saginaw? The fire damage restoration experts at 911 Restoration of Tri-Cities can handle all of your needs after a commercial or residential fire. We are standing by to:
Offer You a Free Fire Damage Consultation
Begin Fire Cleanup with Sodablasting
Repair Structural Damage Caused by the Fire
Remove Smoke, Odors, Soot, and Ash
Restore Your Property to Perfect Condition
Tri-Cities fire damage restoration crews understand what it takes to help you fully recover from fire damage. Techs at 911 Restoration of Tri-Cities can repair water damage caused by sprinklers and fire hoses. Crews can also check for signs of mold after a fire.
Let Tri-Cities fire damage restoration crews address all of your needs. Techs can even help you if you are dealing with puffback damage from a misfiring furnace.
Disaster Restoration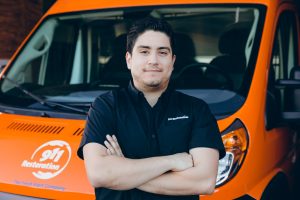 Natural disasters and plumbing emergencies can strike without warning. Here at 911 Restoration of Tri-Cities, crews are standing by to help you with:
Emergency Boarding Up
Emergency Roof Repairs
Emergency Packing Out and Storage
You can contact us if you need fast help handling a hurricane or tornado in Saginaw, Bay City, Midland, and surrounding areas. Property restoration crews are also ready to help with plumbing emergencies, such as a sewage backup or a pipe burst.
You can even rely on us if you need help with fire cleanup and smoke removal. Tri-Cities disaster restoration crews have cutting-edge equipment, designed to make restoring your property a fast and stress-free experience for you.
Get back your peace of mind following a disaster like a fire or a major storm by contacting us now. Crews will offer you same-day services, so you can get a Fresh Start.
Commercial Restoration
Businesses have special needs when it comes to property restoration. Here at 911 Restoration of Tri-Cities, we understand that you want your commercial property restored quickly so you can get back to serving your customers.
You can count on our Tri-Cities commercial restoration crews to handle:
Commercial Water Damage Restoration
Commercial Fire Damage Restoration
Commercial Mold Removal
Commercial Sewage Backups
Techs specialize in working quickly without cutting corners to make sure your property is completely renovated and restored. Crews can work to meet your schedule, so you can focus on operating your business.
You don't have to deal with the stress of a property damage emergency on your own in Saginaw, Bay City, Midland, and surrounding areas. The professional assistance you need is only a phone-call away. You can reach 911 Restoration of Tri-Cities anytime of the day or night. Get a Fresh Start by contacting us to repair and restore your home or business.