Emergency Disaster Response
Disasters, whether natural or man-made, can be highly distressing. They disrupt lives, inflict damages, and leave behind uncertainty. Amidst such challenges, the Tri-Cities community has consistently turned to one dependable ally: 911 Restoration of Tri-Cities. This team, renowned for its quick response and deep-rooted expertise, acts as a shield against the havoc caused by disasters and water damage. Their track record demonstrates an unwavering commitment to ushering affected families back to normalcy, ensuring that properties are restored and revitalized with top-notch efficiency.
Beyond their technical prowess in disaster mitigation, what sets 911 Restoration of Tri-Cities apart is their genuine concern for the community they serve. The aftermath of a disaster isn't just about physical damages; it also entails emotional and psychological impacts. Recognizing this, the team approaches every project with empathy and compassion, ensuring clients feel supported and understood. Their comprehensive approach to disaster response, combining both tangible restoration and intangible emotional support, establishes them as a trusted partner in the Tri-Cities region.
Certified Emergency Response Teams at Your Service
When disaster strikes, immediate and skilled response becomes a paramount necessity. 911 Restoration of Tri-Cities stands out in this regard with its certified emergency response teams. These professionals undergo rigorous training and certification processes to ensure they are equipped with the latest techniques and knowledge to tackle a wide array of emergencies. Whether it's water damage from a flooding incident, fire aftermath, or any other disaster-related challenge, residents of Tri-Cities can rest assured that they have a team of certified experts ready to spring into action, ensuring minimal damage and swift recovery.
But it's not just about skill and expertise. The true essence of the emergency response teams at 911 Restoration of Tri-Cities lies in their dedication to the community. They don't merely see their roles as jobs, but as a commitment to safeguarding their neighbors and restoring peace in times of turmoil. This deeply ingrained sense of duty, coupled with their certified expertise, ensures that each intervention is handled with precision, care, and a genuine desire to bring stability back to affected families and businesses.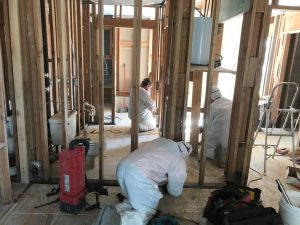 Working Collaboratively with Your Insurance Provider
911 Restoration of Tri-Cities understands that navigating insurance claims can be a daunting and confusing process during times of disaster. That's why they take pride in their commitment to working collaboratively with your insurance provider to alleviate the stress of handling claims. Their experienced team knows the ins and outs of the insurance industry, which means they can effectively communicate with your insurer on your behalf. This collaborative approach streamlines the claims process, ensuring that you receive the financial support you need to restore your property swiftly.
The synergy between 911 Restoration of Tri-Cities and insurance companies benefits clients in multiple ways. It not only simplifies paperwork and reduces the bureaucratic hassle but also ensures that every aspect of the restoration project aligns with the insurer's requirements. This collaboration ultimately facilitates a smoother, more efficient recovery process, allowing clients to focus on rebuilding their lives rather than grappling with insurance complexities.
Moreover, 911 Restoration of Tri-Cities' commitment to transparency means you'll be informed every step of the way. They work closely with your insurance provider to provide accurate estimates, thorough documentation, and regular updates, fostering trust and clarity throughout the restoration journey. This collaborative approach is a testament to their dedication to ensuring that clients receive the support they need to recover from disasters comprehensively and with peace of mind.
Disaster Response Available 24/7/365!
Disasters don't adhere to schedules, and emergencies can happen at any time, day or night. That's why our IICRC-certified team at 911 Restoration of Tri-Cities proudly offers round-the-clock, 24/7/365 disaster response services. When catastrophe strikes, you can count on their dedicated team to be there promptly, ready to assess the situation and initiate the restoration process without delay. Whether it's a burst pipe in the middle of the night or a fire during a holiday, their emergency response hotline at (989) 248-7593 is staffed around the clock, ensuring that help is just a phone call away.
The importance of 24/7 availability cannot be overstated. When faced with the chaos and devastation that disasters bring, having a reliable and responsive team at your service provides much-needed reassurance and peace of mind. With their rapid response, 911 Restoration of Tri-Cities minimizes further damage, which can be crucial in mitigating the overall impact and cost of a disaster. So, no matter when disaster strikes, rest assured that you have a dependable ally in 911 Restoration of Tri-Cities, always ready to answer your call and help you through the toughest of times.