Services
Water Damage Restoration in Michigan
In the state of Michigan, water damage is a frequent concern for homeowners and businesses alike, largely due to the region's variable climate and proximity to the Great Lakes. Whether it's due to heavy rainstorms, flooding, or even just a burst pipe, water damage can wreak havoc on structures, causing both immediate damage and long-term issues like mold growth.
911 Restoration of Tri-Cities understands the urgency and complexities involved in water damage restoration. With a team of trained professionals and state-of-the-art equipment, the company offers immediate 24/7 response to water emergencies, ensuring that the damage is contained and mitigated as quickly as possible.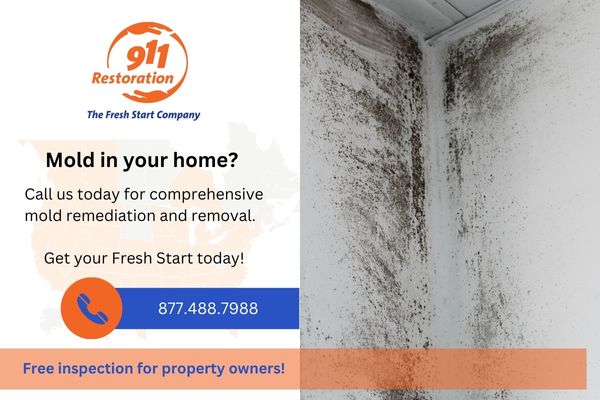 911 Restoration of Tri-Cities provides a comprehensive suite of services tailored for the unique water damage scenarios encountered in Michigan. They handle everything from water extraction and dehumidification to disinfection and mold remediation. Their focus isn't just on immediate clean-up; they also take steps to prevent future issues by conducting moisture mapping and using advanced drying techniques.
With a customer-first approach, they also assist clients in navigating insurance claims, making the restoration process as smooth and stress-free as possible. By combining fast action, advanced techniques, and compassionate customer service, 911 Restoration of Tri-Cities has become a trusted name in Michigan's water damage restoration sector.
Sanitization Services & Disinfection Solutions
In today's health-conscious environment, the demand for high-quality sanitization services and disinfection solutions has never been higher. 911 Restoration of Tri-Cities takes this responsibility seriously, offering robust sanitization services designed to combat a wide range of microbial threats. Whether it's a routine office cleaning or emergency disinfection after a viral or bacterial outbreak, their skilled technicians are trained to adhere to the strictest sanitization protocols, using EPA-approved disinfectants and cutting-edge equipment. They not only focus on high-touch surfaces but also provide a full-space solution to ensure that both air and surfaces are as clean and safe as possible.
911 Restoration of Tri-Cities offers customized sanitization packages to cater to various needs, whether it be for residential spaces, commercial enterprises, or public facilities. Their services aren't just reactionary; they also offer preventive measures to help clients maintain a consistently hygienic environment. These can include regular scheduled cleanings and educating clients on best practices for maintaining a clean and safe space. This dedication to comprehensive sanitization and education makes them a leading choice for those in the Tri-Cities area looking for reliable and efficient sanitization services.
Mold Remediation and Removal After Water Damage
Mold growth is a common aftermath of water damage, and it can pose serious health risks if not addressed promptly. 911 Restoration of Tri-Cities offers expert mold remediation and removal services, specializing in eradicating mold at its source. Their technicians are certified in mold remediation and use advanced techniques, including air filtration and antimicrobial treatments, to safely and effectively remove mold from affected areas. They also identify and resolve the moisture issues that led to mold growth in the first place, providing a holistic solution to the problem.
In addition to removing visible mold, 911 Restoration of Tri-Cities places a heavy emphasis on preventing future growth. This involves a detailed moisture mapping of the affected areas to ensure all hidden pockets of moisture are located and addressed. The company understands that mold removal is not just about surface treatment but requires a comprehensive approach to ensure long-term health and safety. With a commitment to quality work and customer well-being, they have become a go-to resource for mold remediation in the Tri-Cities area.
Sewage Backup And Cleanup
Sewage backup is not only unpleasant but also poses significant health risks due to the presence of harmful bacteria and pathogens. When such an unfortunate event occurs, quick and professional intervention is crucial. 911 Restoration of Tri-Cities is equipped to handle sewage backup and cleanup operations with the utmost urgency and professionalism. Their team is trained to manage the cleanup process safely, ensuring that contaminated areas are isolated and disinfected to remove all hazards.
Their services are thorough and include the removal of sewage, cleanup of affected areas, and treatments to neutralize odors. Advanced equipment, such as submersible pumps and industrial-grade dehumidifiers, is used to extract sewage and moisture effectively. The company also assists with property restoration to get spaces back to their pre-damage state. With their 24/7 emergency response, customer-centric approach, and commitment to safety, 911 Restoration of Tri-Cities is a trusted name in dealing with sewage backup emergencies in the Tri-Cities area.
Fire And Smoke Damage Restoration
When fire or smoke damages your property, quick action is critical to mitigate losses and begin the restoration process. 911 Restoration of Tri-Cities offers a prompt and comprehensive solution for fire and smoke damage. The service includes not just extinguishing remaining hot spots and removing soot, but also repairing structural damage and even restoring personal belongings. Their technicians are experts in identifying the specific type of smoke and using the right treatments to remove odors and stains from walls, carpets, and furniture.
Certified Fire And Smoke Damage Restoration Services
The professionals at 911 Restoration of Tri-Cities are fully trained and IICRC-certified, ensuring the highest standards of safety and quality are maintained throughout the restoration process. Utilizing the most advanced restoration techniques, they aim to bring your property back to its pre-damage condition as quickly and efficiently as possible. With their customer-centric approach, you can expect great communication and quality service from start to finish.
Disaster Restoration
Unforeseen disasters like storms or earthquakes can cause catastrophic damage. 911 Restoration of Tri-Cities offers full-scale disaster restoration services designed to handle the most challenging conditions. With a 24/7 emergency response team, they are always ready to provide immediate assistance, taking steps to minimize further damage and initiate the restoration process. Their services encompass everything from structural stabilization to debris removal and property repair.
Commercial Property Water Damage Restoration
Water damage in a commercial setting can disrupt business and result in financial loss. 911 Restoration of Tri-Cities understands the unique challenges posed by water damage in commercial properties. They offer a rapid response and efficient restoration services to get your business up and running in no time.
Local And Certified Property Damage Restoration Services
911 Restoration of Tri-Cities offers IICRC-certified property damage restoration services that are both local and reliable. Their emphasis on great communication and quality service means that you can trust them to handle any restoration task professionally.
Whether it's fire and smoke damage, disaster restoration, or commercial property water damage, 911 Restoration of Tri-Cities stands out as a reliable partner for all your restoration needs. Their team of IICRC-certified professionals offers great communication and quality service to ensure a hassle-free restoration process. For immediate assistance, call them at (989) 248-7593 and visit the corporate site for more information. With 911 Restoration of Tri-Cities, you're not just getting a service—you're gaining a trusted partner in making your space safe and comfortable again.
911 Restoration of Tri-Cities is located at 3364 S Reese Rd Frankenmuth, MI 48734, so give us a call 24 hours a day at (989) 248-7593.