Sanitization Services in Tri-Cities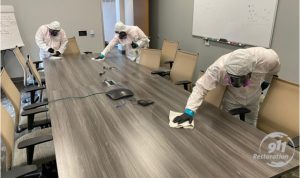 Thanks to the recent pandemic of coronavirus, there can be no denying the focus people have on getting and remaining clean. While this is important, it's easy to overlook the impact this outbreak has had on property owners. They have not only seen reduced revenue from lowered foot traffic, but also have most likely experienced a government-mandated shutdown.
Fortunately, property owners can do their part to help the community of Tri-Cities fight back against this infection. The coronavirus is reported to "remain viable for hours to days on the surface." For this reason, the best thing owners can do is ensure the latest sanitization and disinfection solutions are followed. By doing this, they ensure the people remain protected once they're allowed to return.
Call us at (989) 248-7593 and see how we can help you.
The Risk Factors of the Coronavirus
This virus affects everyone equally. However, the more severe symptoms such as failure, severe acute respiratory syndrome, and even death are more likely with specific subsets of the population. Those who are elderly, pregnant, or have an otherwise compromised immune system can expect an elevated risk with this illness.
This virus spreads quickly and secretly. Most people don't show symptoms for at least 14 days. In most cases, the delay is longer. That's why it's necessary to hire the services of trained IICRC certified technicians to provide sanitization and disinfection services.
Our Sanitization Process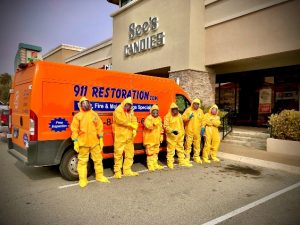 Our IICRC certified technicians at 911 Restoration of Tri-Cities are standing by 24/7/365 to perform any needed professional commercial and residential sanitization services. We provide a comprehensive service that addresses your concerns no matter if it's a commercial property or if you need standard home sanitization and disinfection solutions.
Call us at (989) 248-7593 and learn how we can help.
We start the sanitization process with a decontaminating solution that is modified to neutralize most traces of pathogens and dirt on the premises. When we have neutralized the affected area, we can get to work on our cleanup process to ensure nothing is left behind. 
Our technicians take your health and well being seriously. That's why we ensure we remain current on the latest CDC and EPA protocols. We're in a unique position to help the community thanks to our combination of local ownership and nationwide resources. Keeping a clean building will ensure peace of mind for both employees and customers. With 911 Restoration Inc., you can rely on us to provide the Fresh Start you and everyone else in Tri-Cities needs. 
911 Restoration of Tri-Cities is located at 3364 S Reese Rd Frankenmuth, MI 48734, so give us a call 24 hours a day at (989) 248-7593.