Disaster Restoration
Natural and man-made disasters can cause significant property damage in Saginaw, Bay City, Midland, and surrounding areas. You may need professional help after a hurricane, tornado, flood, fire, or pipe burst. The Fresh Start you deserve is only a phone-call away at 911 Restoration of Tri-Cities. Contact IICRC certified disaster restoration techs 24/7/365 to get help.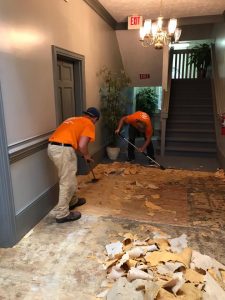 The professionals at 911 Restoration of Tri-Cities can race out to your property within 45 minutes of an emergency call. Once techs reach your property, they can perform:
Emergency Roof Repairs
Emergency Boarding Up
Emergency Storm Repairs
Emergency Pack Out and Storage
Tri-Cities disaster restoration crews know that time is of the essence in an emergency situation. That's why techs offer same-day services and help in under an hour throughout Saginaw. The experts at 911 Restoration of Tri-Cities are licensed, bonded, and insured to help you with:
You can count on us to take care of commercial and residential property damage. Crews have the training and experience to take care of any kind of emergency. No job is too big or too small for disaster restoration experts in Bay City.
Call us at (989) 248-7593 and please allow us to offer you a free visual inspection.
Your property can be returned to better-than-new condition quickly if you get professional help with water damage restoration, fire cleanup, and mold remediation. Take charge of your future after a disaster by contacting 911 Restoration of Tri-Cities any time of the day or night.
What Happens During Emergency Water Damage Restoration?
You may need water damage restoration Michigan after a natural disaster or a plumbing emergency. The water damage repair techs at 911 Restoration of Tri-Cities are ready to spring into action for you. Techs can:
Take Steps to Stop Water from Entering Your Property
Begin Water Extraction to Remove Existing Water
Set Up Dehumidifiers to Dry Out Your Home or Business
Repair Structural and Aesthetic Damage Caused by Water Damage
The experts at 911 Restoration of Tri-Cities are ready to help you handle any water damage disaster. You can contact us if you need help with:
A Leaking Roof or Leaks in Your Walls
Massive Carpet Water Damage
A Flooded Basement or Crawlspace
A Sewage Water Backup
Ice Dams or Frozen Pipes in the Winter
Flooding from a Hurricane
A Pipe Burst or Leaking Pipe
Tri-Cities water damage restoration techs can also help you handle a mold infestation after a water damage disaster. Mold can grow quickly in areas exposed to unwanted moisture in Midland. Fortunately, 911 Restoration of Tri-Cities can assist you by:
Starting Mold Remediation Right Away
Using Air Filters to Remove Mold Spores
Quarantining Areas with Mold Growth
Handling Mold Decontamination and Odor Removal
Return your property to better-than-new condition after a water damage emergency with disaster restoration specialists in Tri-Cities. Crews are ready to begin working on your home or business now, so you can get back your peace of mind with a Fresh Start. Call us at (989) 248-7593 and see how we can help you.
Can You Get Emergency Fire Damage Restoration in Tri-Cities?
Fire represents one of the most destructive forces in nature. Fire is especially concerning for property owners in Saginaw, Bay City, Midland, and surrounding areas as it can lead to:
Structural Damage Caused by the Flames
Water Damage from Sprinklers and Fire Hoses
Smoke, Soot, and Ash Damage
Mold Growth Associated with Excess Moisture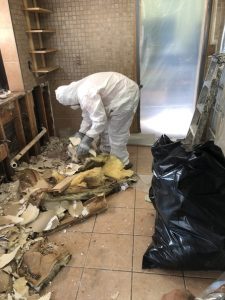 You can limit the total damage caused by a fire by beginning disaster restoration right away. The crews at 911 Restoration of Tri-Cities can perform fast roof repairs and boarding up services to keep the elements out of your property after you experience fire damage. Call us at (989) 248-7593 and learn how we can help.
Our IICRC-certified techs can also take care of prompt water extraction and dehumidification. This can reduce the damage to your home or business. Handling fast dehumidification can also reduce the odds that you will experience a mold outbreak after a fire.
Crews can pack out and store your undamaged belongings following a fire damage emergency. This can ensure that your possessions remain in good condition as techs:
Use Sodablasting to Clean Up Soot and Ash
Repair Damage Caused by the Fire
Take Care of Water Damage Restoration
Check for Signs of Fungal Growth
Tri-Cities disaster restoration crews can even offer you advice when it comes time to submit a claim to your insurance company. We have experience working with insurance agencies throughout Saginaw. Let us help you with all aspects of property restoration after you experience a disaster.
Serving the communities of Alger, Bay City, Freeland, Kawkawlin, Midland, Saginaw and surrounding area.
911 Restoration of Tri-Cities is located at 3364 S Reese Rd Frankenmuth, MI 48734, so give us a call 24 hours a day at (989) 248-7593.