Water Damage and Mold Removal in Kawkawlin
Who do you call for an unexpected pipe burst? What do you do about a sewage backup in your shop or a flooded basement destroying your family room? And what about rotted drywall, mold contamination, and other side effects of water damage?
The answer to all these questions is 911 Restoration of Tri-Cities. If you need mold removal or water damage restoration in Kawkawlin, make us your go-to. Every one of our flood cleanup technicians has completed extensive training and is IICRC certified. They are beyond prepared to provide you with comprehensive, lasting water damage restoration and mold decontamination. 
No matter what your property has been through, you can trust that we have the solution. Our water damage restoration service includes: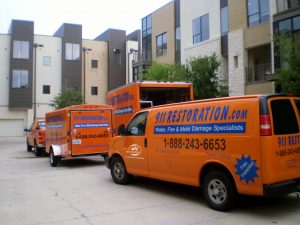 Water extraction

Boarding up

Storm repair

Roof repair

Leak detection

Sewage removal

Sanitization

Structural drying and dehumidifying

Surface and structure repair

Packing out and storing at-risk items

Water damage inspection

Mold inspection

Mold remediation

And much, much more
Our technicians hold themselves to a high standard—in service and in speed. In fact, we're open 24/7/365, and when your call comes in, we get a team to your property in no more than 45 minutes.
Pipe bursts, flooded basements, and other water disasters can feel like the end of the world. But with 911 Restoration of Tri-Cities, it's really a new beginning. Call now and let us give you a Fresh Start.
Kawkawlin's Top Water Extraction Company
Kawkawlin is a small, friendly community—a marvelous place to live and work. But there's no question that homes and businesses are constantly at the mercy of a rough local climate. From violent storms causing flooded basements to mold-friendly humidity, local property owners are often at odds with the weather.
At 911 Restoration, we love our community. We believe the local people and properties are a major part of what make our neighborhoods great. That's why we're so dedicated to providing the very best flood cleanup in Kawkawlin and beyond.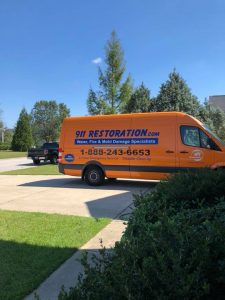 Our water damage restoration staff cares about you and your property. No one does a better job for you, and no one makes you feel as comfortable about the process. We know how lost you might feel when you see your beloved property covered in water. Our flood cleanup staff goes above and beyond to help you move through the restoration process with clear eyes. They communicate with you so you always understand the services they offer. 
We also understand the financial worry that accompanies a pipe burst or flooded basement. Does insurance cover flood repair? What about additional services such as drywall replacement or mold remediation? 911 Restoration happily works with all providers, and we invite you to take advantage of our free insurance consultation. During the consultation, a flood cleanup staff member explains your coverage so you know exactly what to expect. They even assist with loss itemization, file your claim for you, and bill your provider for their expenses.
This attentive care is why 911 Restoration is the first choice for water damage restoration in Kawkawlin. We're more than a water clean up service. We're an ally and a neighbor.
Call today for the service you deserve.
Full-Service Mold Removal in Kawkawlin
Property owners often ask if it's safe to handle mold removal themselves. They understandably hope to avoid the cost of professional mold remediation. The truth is that do-it-yourself mold decontamination isn't just unsafe—it's also less cost-effective in the long run.
Our certified mold remediation professionals provide full-service mold removal. Their multi-step process ensures your mold problem is truly gone.
First, they conduct a careful mold inspection. Fungus reproduces through airborne spores. A mold colony on your bathroom wall could spawn a second infestation hidden in your basement. Our mold inspection crew examines your property thoroughly to make sure that when they do perform mold removal, they are eliminating every growth on your property.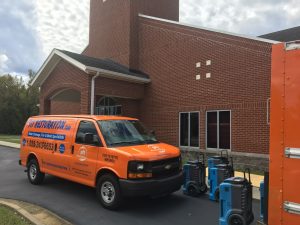 After completing the mold inspection, our technicians devise a strategy for mold removal. Some varieties of mold are toxigenic and release dangerous mycotoxins. If you attempt mold remediation on your own, you place yourself in direct contact with these hazardous particles. Our mold decontamination experts know how to handle harmful species carefully.
After mold removal, they dehumidify the site of the infestation. This prevents recurring growth, as mold spores can only thrive on damp surfaces.
If you want to get rid of mold for good, you need every single one of these steps. Don't settle for a job half-done. Call 911 Restoration of Tri-Cities.
Servicing the cities of Alger, Au Gres, Auburn, Bay City, Bentley, Essexville, Freeland, Gladwin, Hemlock, Kawkawlin, Linwood, Midland, Munger, Omer, Pinconning, Reese, Rhodes, Saginaw, Saint Charles, Standish, Sterling, Turner, Twining, and surrounding areas.