Water Damage and Mold Removal in Freeland
Few experiences strike panic in the heart of a property owner like and out-of-nowhere water disaster. A pipe bursts at 1:00 in the morning. A sewage backup contaminates your office space. A flooded basement, a sprinkler malfunction, a roof destroyed by an ice dam… you never know when water will destroy the property you love.
Fortunately, if you need water damage restoration in Freeland, the best resource is one easy call away.
911 Restoration of Tri-Cities provides mold removal and 24/7 emergency flood cleanup in Freeland and beyond. We love our community, and we aim to protect it with comprehensive property restoration in any disaster. Our IICRC certified technicians fulfill the highest standards in water damage restoration. Our company is licensed, insured, and bonded. It's also locally owned and operated, so you can rest assured your flood cleanup providers value you as a neighbor.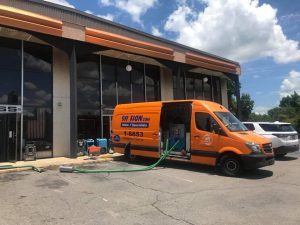 From the moment your call comes in, our crew works hard to deliver peace of mind. They do that by guaranteeing an arrival time of 45 minutes or less. Our water damage restoration technicians also take the time to hear your concerns and offer solutions. They communicate clearly so you always understand which tasks they perform and why. Wondering if your insurance covers water damage restoration? Let us take a look! We work with all insurance providers, and we provide a free insurance consultation. You have every right to know whether you'll be stuck with the costs of water removal, roof repair, mold inspection, or mold remediation. A friendly staff member makes sure you have this information from the very beginning. They also take care of the complicated paperwork and bill your provider directly.
At 911 Restoration, we understand how overwhelming a water disaster can be, from pipe bursts to washer machine floods. You can count on us to make flood cleanup and recovery easier and more affordable than ever before. For compassionate attention and expert service, call 911 Restoration of Tri-Cities today.
Emergency Water Clean Up Service
When you're in the midst of a property damage crisis, you deserve to know when help will arrive. Our water damage restoration crew commits to our guaranteed arrival time of 45 minutes or less. We don't want you waiting and wondering. We want you to feel assured and supported after your pipe burst.
So, what exactly does emergency flood cleanup service include?
If you call 911 Restoration, it includes whatever you need. Boarding up? Check. Roof repair? Check. Sewage extraction? Check
Our water damage restoration technicians move fast to pack out and store belongings in danger of being harmed. They stop the flow of water, remove standing moisture, and bring in heavy duty fans to dry your property completely. 
Once they've addressed these urgent needs, they take a look at what you need for the long term. At 911 Restoration, we believe every challenge is an opportunity to create a better life. We call this our "Fresh Start philosophy." When it comes to pipe bursts or flooded basements, a Fresh Start means rebuilding your property to its best-ever condition.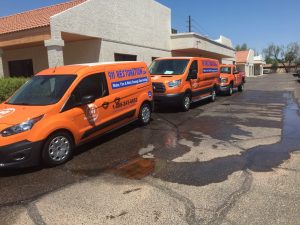 Your dedicated flood cleanup workers clean and sanitize the flooded area. They also conduct structural testing and water damage inspection to determine if any materials have been compromised. These highly trained pros can repair anything, from roofing to drywall to floorboards. They also perform a comprehensive mold inspection. And if they find an infestation, they take care of mold removal personally.
When you're struck by a water disaster, don't turn to a basic water extraction company. Call the contractor who does the job fast and completely. Reach out to 911 Restoration of Tri-Cities. We'll be there in 45 minutes or less.
The Most Reliable Mold Remediation in Freeland
Mold removal is a more complicated process than many realize. Too often, property owners turn to home remedies or cheap, non-certified contractors for mold decontamination. As a result, their infestation is never truly eliminated, and their long-term expenses rack up as fungus eats away at their property.
To truly get rid of mold, you need a certified mold remediation contractor you can trust, like 911 Restoration of Tri-Cities.
Our mold decontamination experts use a multi-step process for lasting results. First, they conduct a thorough mold inspection. They examine all the nooks and crannies where mold tends to thrive. This includes unseen spaces like behind your walls, on sheetrock, and inside pipes. 
Once the crew knows their mold inspection has revealed every hidden colony, they being mold removal. You can trust our technicians to handle mold removal with the utmost caution. Not only are their techniques effective, but they also take great care to prevent the spread of spores and mycotoxins.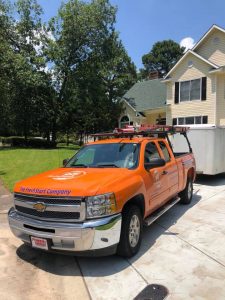 They complete mold remediation with structural dehumidifying using professional fans. This is an area where do-it-yourself mold removal efforts fall short. If the structure where mold grew remains wet, you're almost sure to have a repeat infestation. Our mold decontamination workers make sure that doesn't happen.
Don't live with mold any longer than you have to. Call 911 Restoration for the most reliable mold remediation in Freeland.
Servicing the cities of Alger, Au Gres, Auburn, Bay City, Bentley, Essexville, Freeland, Gladwin, Hemlock, Kawkawlin, Linwood, Midland, Munger, Omer, Pinconning, Reese, Rhodes, Saginaw, Saint Charles, Standish, Sterling, Turner, Twining, and surrounding areas.