Flood Damage Restoration | Expert Solutions for Water Damage Cleanup
When faced with the aftermath of a flood, it's crucial to enlist the help of a trusted water damage restoration company. At 911 Restoration of Tri-Cities, we understand the urgency and stress that comes with flood damage, and we are here to provide professional and timely restoration services. With our expertise and commitment to exceptional customer service, we aim to restore your property to its pre-flood condition and provide you with peace of mind.
Understanding Flood Damage
Flood damage can have devastating effects on both residential and commercial properties. Whether caused by natural disasters, burst pipes, or plumbing mishaps, floods can lead to structural damage, electrical hazards, and the growth of mold and mildew. It's essential to address water damage promptly to prevent further deterioration and mitigate potential health risks.
The 911 Restoration Approach
At 911 Restoration of Tri-Cities, we take a comprehensive approach to flood damage restoration. Our highly trained and experienced team is equipped with state-of-the-art equipment and follows industry best practices to ensure effective cleanup and restoration. We prioritize quick response times, understanding the urgency of the situation, and work diligently to minimize the damage to your property.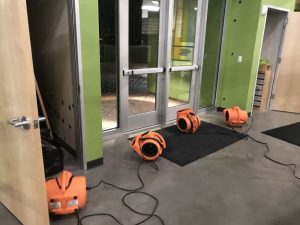 The Flood Damage Restoration Process
Our restoration process involves several critical steps to bring your property back to its pre-flood condition. We begin with a thorough assessment of the damage, followed by water extraction using powerful pumps and industrial-grade drying equipment. We conduct mold inspections and remediation if necessary to ensure a safe and healthy environment. Sanitization and deodorization are also part of our process to eliminate any lingering odors or contaminants. Finally, we focus on restoring the damaged structures and belongings, working diligently to return your property to its original state.
Benefits of Professional Water Damage Cleanup
Hiring professionals for flood damage restoration offers numerous advantages. Our trained technicians have the expertise to assess the extent of the damage accurately and implement effective restoration strategies. By addressing water damage promptly, we help prevent further structural deterioration and minimize repair costs. Additionally, our thorough cleanup and sanitization processes ensure that your property meets safety and health standards, reducing the risk of mold growth.
Tips for Preventing Flood Damage
Prevention is key when it comes to flood damage. We provide practical tips to help homeowners and businesses safeguard their properties from water damage. These tips include regular maintenance of plumbing and drainage systems. Also, we install flood barriers and leak detection systems, and being prepared for natural disasters and extreme weather events.
We Value Proficient and Quality Water Damage Restoration
At 911 Restoration of Tri-Cities, we are IICRC-certified professionals who understand the importance of great communication during a stressful emergency. We are dedicated to providing expert flood damage restoration services and ensuring your complete satisfaction. If you're in need of professional water damage cleanup, don't hesitate to call us at (989) 248-7593. Trust our experienced team to handle your restoration needs and guide you towards a fresh start.